This blend can help you to develop one of the most valuable skill – the intuition.
Significant part of the blend is oil of boswellia that brings calm, gentle mollification, greater concentration and purification of the intellect. Cumin works in a similar way and evokes the feelings of the security. Laurel is traditionally perceived as the visionary herb. It may strengthen your self-confidence and inspiration and lift up the mind. Generally the blend can soothe your intellect and emotions, establish relaxation, contentment and calm and to support the"visionary" capabilities which everyone has in certain level.
The true intuition cannot be forced. It is a gift that comes to us from the deeper layers of the mind. But we can prepare the conditions that are suitable and allow us to capture and utilize the intuition. The art to make right decisions at the right time is one of the pillars of a successful life and we can save many unnecessary disappointments and defeats.
Warning:
---
Ingredients (INCI)
:
Himalayan cedar
(Cedrus deodara oil)
*
Frankincense
(Boswellia serrata oil)
*
Orange
(Citrus sinensis oil)
*
Lemon
(Citrus limonum oil)
*
Gurjum Balsam
(Dipterocarpus turbinatus oil)
*
Wild Mint
(Mentha arvensis oil)
*
Laurel
(Laurus nobilis oil)
*
Cumin
(Cuminum cyminum oil)
*
Cinnamon, Leaf
(Cinnamomum zeylanicum oil)
*
Clary sage
(Salvia sclarea oil)
*
Galbanum
(Ferula galbaniflua oil)
*
Geranium
(Pelargonium graveolens oil)
*
Yarrow
(Achillea millefolium oil)
*
Lavender
(Lavandula angustifolia oil)
*
Bazalka posvátná
(Ocimum sanctum oil)
*
Myrrh
(Commiphora myrrha oil)
*
Rose
(Rosa centifolia oil)
*
Sandalwood
(Santalum Album oil)
*
Růže Damascenská
(Rosa damascena oil)
*
Boswellia carterii
(Boswellia carterii oil)
*
Boswellia sacra
(Boswellia sacra oil)
*
Palo Santo
(Bursera graveolens oil)
*
*CTEO – Certified Therapeutic Essential Oils
---
Nařízení Evropského parlamentu nám neumožňují uvádět u výrobků neschválená zdravotní tvrzení. Není to možné ani v případech, kdy jsou tato zdravotní tvrzení potvrzená vědeckými studiemi. Zdravotní tvrzení zde není možné uvádět ani v rámci osobních zkušeností a referencí. Pro zjištění podrobnějších informací Vás proto odkazujeme na jiné zdroje.
---
Všechny směsi esenciálních olejů BEWIT® (CTEO® - Certified Therapeutic Essential Oils) jsou pečlivě vyrobeny a harmonizovány z důkladně vybraných silic pro dosažení maximálních výsledků. Pochází ze sklizní z nejlepších zdrojů z celého světa. Jednotlivé složky byly vybrány s důrazem na vědecké poznatky, historickou moudrost, odkaz našich předků a praktické výsledky. Vše smícháno a podpořeno jedinečnými postupy pyramidizování (PYRAMIDIZED®), BEWIT SPAGYRIC, GEMSTONE BALANCED a MERKABA FREQUENCY pro dosažení kombinace, největší síly a účinnosti.
---
---
Designated for use in the aroma lamps and diffusers and for the direct inhalation. Do not take internally. Do not apply undiluted to the skin. Keep away from children.
Disclaimer: The information given on this website is presented only with the intention of providing and supporting personal awareness. It is not intended to replace the individual relationship you have with your doctor or qualified medical professional. The intention is not to alleviate or treat any medical or psychological conditions or to provide prevention or diagnosis or to encourage such activities. If you are currently under medical care or undergoing any medical treatment, consult your doctor about any changes in your diet or changes in relation to the reported information.
This information is not meant to be medical advice, rather a platform for sharing knowledge and information. We urge you to reach your own opinion about your cooperation with a qualified medical professional and make your decisions based on your own sound judgment and research. This statement has not been evaluated by any regulatory authorities. We recommend that you conduct your own individual research prior to purchasing something or making a decision.
---
Magyar (1)
---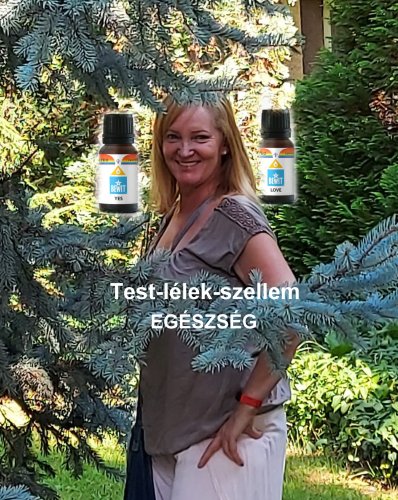 Timea Fábián
Před 24 dny
27.12.2020 13:37
Magyar
Az intuíció érzését nem lehet erőltetni de lehet segíteni…ezért gondoltam, hogy kiegészítem a Meditation, a Humility, a Now olajakat ezzel,...
Az intuíció érzését nem lehet erőltetni de lehet segíteni…ezért gondoltam, hogy kiegészítem a Meditation, a Humility, a Now olajakat ezzel, mikor csak önmagammal lehetek és magamra figyelhetek az érzésekre, gondolatokra a saját kis belső csendemben. Nyugalmat hoz, ellazít, elősegíti a pihenést diffúzorban és pulzus pontra és talpra kenegetve használom! Kicsit édeskés, mentolos, virágos és nagyon kellemes magával ragadó illat! Mióta használom az olajokat folyamatosan sokkal nyugodtabb, kiegyensúlyozot­tabb, laza, békés, " nem érdekel semmi"nincs az a stressz, hogy még ezt is azt is meg kell csinálnom…stb. Kösznöm Bewit!
Přihlášení zákazníci mohou hodnocení označit jako užitečné.