Natural oils which we have carefully selected for this blend effectively help to slow down the aging process.
Essential oils of thyme, fennel, cloves and sage are well known for their anti-oxidative effects. This blend also contains the citruses that are rich of d-limonene. More than 50 research works published in leading medical journals around the world prove and document the importance of d-limonene in the prevention and treatment of cancer.
Frankincense which is also present in this blend contributes to normal function of joints, heart activity and the blood cholesterol is influenced favourably. Its good effects on health was shown by research of the Ponce University.
---
Ingredients (INCI)
:
Frankincense
(Boswellia serrata oil)
*
Lemon
(Citrus limonum oil)
*
Orange
(Citrus sinensis oil)
*
Thyme
(Thymus vulgaris oil)
*
Fennel
(Foeniculum vulgare oil)
*
Clove
(Caryophyllus aromaticus oil)
*
Coriander
(Coriandrum sativum oil)
*
Clary sage
(Salvia sclarea oil)
*
Melissa
(Melissa officinalis oil)
*
*CTEO – Certified Therapeutic Essential Oils
---
Nařízení Evropského parlamentu nám neumožňují uvádět u výrobků neschválená zdravotní tvrzení. Není to možné ani v případech, kdy jsou tato zdravotní tvrzení potvrzená vědeckými studiemi. Zdravotní tvrzení zde není možné uvádět ani v rámci osobních zkušeností a referencí. Pro zjištění podrobnějších informací Vás proto odkazujeme na jiné zdroje.
---
Všechny směsi esenciálních olejů BEWIT® (CTEO® - Certified Therapeutic Essential Oils) jsou pečlivě vyrobeny a harmonizovány z důkladně vybraných silic pro dosažení maximálních výsledků. Pochází ze sklizní z nejlepších zdrojů z celého světa. Jednotlivé složky byly vybrány s důrazem na vědecké poznatky, historickou moudrost, odkaz našich předků a praktické výsledky. Vše smícháno a podpořeno jedinečnými postupy pyramidizování (PYRAMIDIZED®), BEWIT SPAGYRIC, GEMSTONE BALANCED a MERKABA FREQUENCY pro dosažení kombinace, největší síly a účinnosti.
---
---
Designated for use in the aroma lamps and diffusers and for the direct inhalation. Do not take internally. Do not apply undiluted to the skin. Keep away from children.
Disclaimer: The information given on this website is presented only with the intention of providing and supporting personal awareness. It is not intended to replace the individual relationship you have with your doctor or qualified medical professional. The intention is not to alleviate or treat any medical or psychological conditions or to provide prevention or diagnosis or to encourage such activities. If you are currently under medical care or undergoing any medical treatment, consult your doctor about any changes in your diet or changes in relation to the reported information.
This information is not meant to be medical advice, rather a platform for sharing knowledge and information. We urge you to reach your own opinion about your cooperation with a qualified medical professional and make your decisions based on your own sound judgment and research. This statement has not been evaluated by any regulatory authorities. We recommend that you conduct your own individual research prior to purchasing something or making a decision.
---
Slovensky (1)
---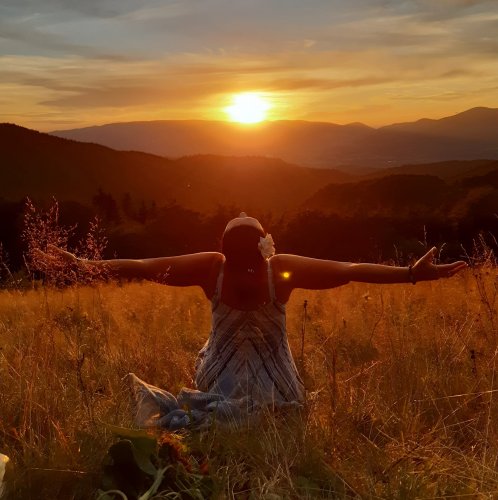 Andrea Fabrová
Před 188 dny
17.10.2020 14:54
Slovensky
Ako už napovedá samotný názov tohto prekrásne voňajúceho EO, Antiaging podporí vašu pokožku tela pri jej regenerácii. Krásne pokožku vypína...
Ako už napovedá samotný názov tohto prekrásne voňajúceho EO, Antiaging podporí vašu pokožku tela pri jej regenerácii. Krásne pokožku vypína (vyhnúť sa okoliu očí) a okysličuje z vonkajšej aj vnútornej strany. EO Antiaging si riedim v mandľovom nosnom oleji, niekedy v kokosovom frakcionovanom oleji (záleží na vás, čo preferujete a aký typ pokožky máte) a to nasledovne: do sklenenej 50ml flaštičky nakvapkám 60kv EO (4% riedenie) a zvyšok doplním nosným olejom. V ďalšej 50ml fľaštičke mám zmiešaný EO Antiaging s EO GOLD v pomere 40kv AG, 20kv GOLD + napr. ostropestrec mariánsky, jojobový olej, mandľový olej… Doma si takto môžete pripraviť svoj krém proti vráskam, všetko záleží od vás, ktorý EO vaše čuchové bunky preferujú. Ďalšiu 50ml fľaštičku mám na nočnom stolíku s rumančekom rímskym, tiež v pomere 60kv na 50ml fľaštičku. Je to preto, lebo telo si rýchlo zvyká na EO a preto je ich dobré striedať. Dať telu to, čo neočakáva, aby si moc nenavyklo na rutinu. EO Antiaging si môžete tiež pridať do kúpeľa. Zvyknem si zohriať 2dcl mlieka, pridám 2 lyžice medu, trošku olivového oleja a kvapnem 6kv EO Antiaging. Dobre premiešané vlejem do teplej vody a užívam si domáci wellness pri zapálených sviečkach a relaxačnej hudbe. Telo už neoplachujem, nepoužívam potom žiadne sprchové gély. Jemne pokožku vysuším uterákom. Ten pocit na pokožke po takomto kúpeli je neopísateľný. Hladulinká pokožka ako bábätko. Je to pocit byť bohyňou. A presne tak sa aj po kúpeli cítim.
Přihlášení zákazníci mohou hodnocení označit jako užitečné.